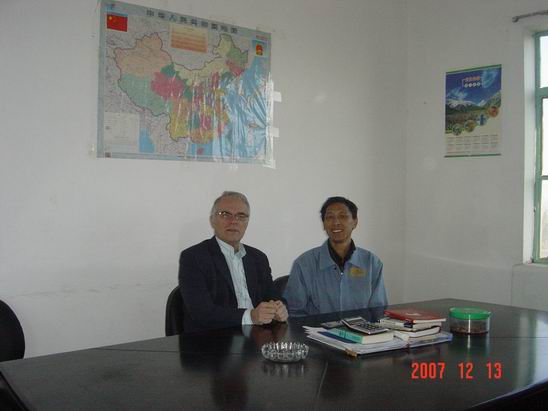 2009年7月22日,公司通过GB/T24001-2004 idt ISO14001:2004 环境管理体系认证。July 22,2009,The company gained GB/T24001-2004 idt ISO14001:2004 Enviromental Management System Certificate.
为向国内外漂白紫胶用户提供更为优质的服务,保障食品级紫胶产品质量的优越性,同时便于公司内部不同企业间经济效益考核管理,2009年元月4日,公司召开2009年第一次董事会,通过成立紫胶事业部决议案,紫胶事业部将负责紫胶厂的生产及销售。With an aim to provide shellac customer high quanlity and excellent service, the No.1 board meeting of FrontSeeker in year 2009 was hold in Kunming on January 4,2009.The meeting passed the decision to set up Shellac Business Department and to be in charge of sales of shellac and production of firm's shellac factory.
2007年12月12-15日,荷兰奈梅根大学汉斯.莫瑞尔博士到前格科技进行访问。Decmber 12-15,2007,our worship guest,Dr.Hans Moerel,the professor of Radboud University Nijmegen takes a visit to FrontSeeker.
2007年10月26日,科技部官方正式公布前格科技荣获国家创新基金扶持。In October 2007,China National Science & Technology Ministry officially announced that FrontSeeker was selected to be funded by the Ministry.
---
Recent Media Cooments on FrontSeeker Tech